Field Day 2007, Desert Circle Amateur Radio Club
Like a cactus: Thorny & Slowly Growing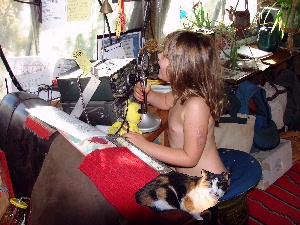 NU7DE of the

Desert Circle Amateur Radio Club

operated 2007 Field Day hosted by Camilla, KE7KHO & Bill, W1VBG, at their property called Wind Horse, fifteen miles north of Pie Town, Catron, New Mexico. Here is the report as submitted to ARRL HQ of that weekend:

Field Day Report—June 2007:
Total contacts: 163 stations worked were on four bands with three transmitters and three operators at the NU7DE/3ANM Field Day site. Stations were contacted in a total of 29 states during the 24 hour period. Including all the bonuses for solar power, youth element, information table, &c we are claiming a total of 996 points.

NU7DE was operated by KE7KHO & W1VBG, out of Aguila, and k1oIq in The Cat Drag'd Inn, at Wind Horse about 15 miles north of Pie Town in Grid Square DM54.
We used an assortment of longwires and HamSticks for aerials on the three 100w transmitters. The entire operation was solar powered. All QSO's were conducted with hot air. Even the well pump is solar powered.

Solar Powered all the way. Naturally Utilising 7 Deranged Electrons even copped the Youth Element and the Public Information Table.

QSL, Info, Operating Opportunities, Website comments: NU7DE.arc@gmail.com

Upcoming Events: Nude Rec Week in July; look for us on or about 14,265, mid day, mid week, somewhen and wherever.

The Ultimate in "Barefoot" Operation!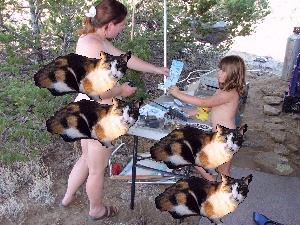 Related Links:
Magic Circle/SKP Buff BOF
Quartzfest at Mile 99
Our Inspiration and Neighbors to the East