Field Day 2010, Desert Circle Amateur Radio Club
The "Other" Radio Club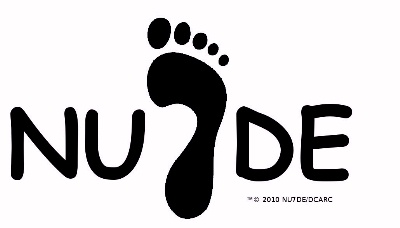 NU7DE of the

Desert Circle Amateur Radio Club

operated 2010 Field Day hosted by members Camilla Van Sickle W7YKU & Bill Pennington W1VBG, at Casa Blanca Hot Spring, Tonopah AridZona. Here is the report as submitted to ARRL HQ of that weekend:

Field Day ReportóJune 2010:
"Dagnabbit!" (May not be the exact word used.) KE7ONZ, on loan from the Radio Society of Tucson (RST), wrote at L8-o'clock Friday afternoon when he should have arrived by now. "Alternator Stopped Alternating!" he wrote, "At least I had a spare."

So went the first of several equipment malfunctions that adventurised the NU7DE Barefoot Field Day and T-Shirt Distribution BBQ. KE7ONZ, newest member of the Desert Circle (NU7DE) ARC, all the way from Tucson, finally arrived at Casa Blanca Hot Spring Saturday morning in plenty of time to get his camper levelled before the starting gun.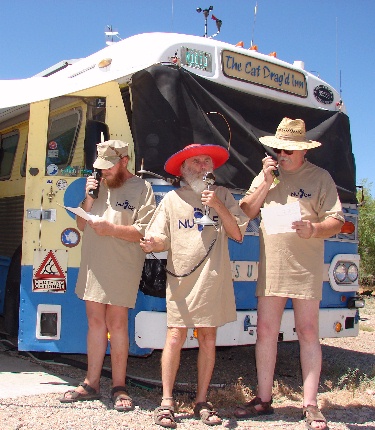 The NU7DE team was comprised of three operators: kd7tkq, k1oIq, ke7onz, (four if you count me0w but she was napping a lot); nine transmitters were available (but we could use only three at a time for lack of additional operators), and a total of 12 antennae and aerials. Not to mention at least seven assorted handhelds used for campus frequency and soaking tub coordination. Everything but the swamp coolers and the handhelds worked on natural (for the "Natural Power" bonus) solar power. The operators are shown here dressed in official NU7DE finery, patiently keeping their shirts on for the ARRL Submission photo.

Alas, we had more equipment than we knew what to do with. Needless to say we missed the rest of our members. And we missed all the local hams who were invited to come help NU7DE operate Field Day NIFOR and contribute to the hot air in the desert.

Despite all these handicaps (some of which cost us valuable bonus points) NU7DE had 94 valid QSOs and garnered several "Love your call" comments. Of special mention are: KE7ONZ--first time on HF; KD7TKQ--handicapped, not able to lift more than 10 S-units at a time; K1oIq--made it through the day sans nap. Most distant DX included Maui and Virgin Islands on 15m! The Propagation Goddess was good to us.

Equipment used or available included: FT-817, FT-920, IC-730, FT-757, FT-900, two IC-3200, and various handhelds. There were six HF hamsticks, three VHF verticals, two long wires, and a ring-necked dove in a four element VHF beam.

RST had quite the successful FD also, even without the presense of KE7ONZ; as he wrote from home: "Kind of surprised we never worked them when 20m was hot. The only down side was everyone had to stay dressed. Still and all, they had a good time. RST got a lot of public exposure but we got much more overall exposure."

More pictures and logs are available at the NU7DE Io Group

Special THANKS! again to our hosts in absentia W7YKU and W1VBG who were on the Continental Divide in New Mexico enjoying the cool.


--k1oIq, President, Desert Circle ARC

Solar Powered all the way. Naturally Utilising 7 Deranged Electrons.

QSL, Info, Operating Opportunities, Website comments: NU7DE.arc@gmail.com

Upcoming Events: Nude Rec Week in July; look for us on or about 14,265, mid day, mid week, somewhen and wherever.

The Ultimate in "Barefoot" Operation!




Related Links:
Magic Circle/SKP Buff BOF
Quartzfest at Mile 99
Our Inspiration and Neighbors to the East